Description
VIBROMAGNETICA
Vibrating Belt-Massager with magnets
(3V. batteries operated - 2 operation speeds)
CERTIFIED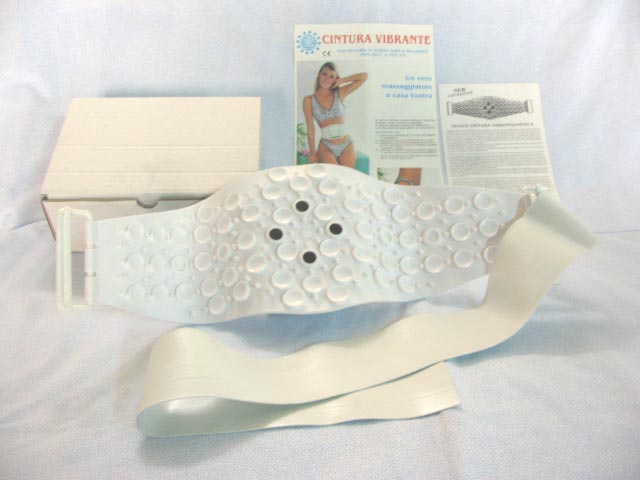 VIBROMAGNETICA is a "must" for everyone and for every age to get, in fast but effective way, a massage without equals.
The vibrating belt has magnets to keep body healthy. Ideal for people with a sedentary life, for example those who must stay all the day seated in a car.
VIBROMAGNETICA offers two speeds: you can use it, every day, for five minutes on the low speed and other ten minutes on the higher.
It's ready in few seconds; wear it through the strap in endowment. Nothing more is needed: press the button on the desired speed and it will think about everything. You can use it anywhere, because it works with batteries (not included): this allows to always have the massager with you and also to use it while you are busy in your jobs, for instance during the carrying out of the domestic matters.
Use it carefully and firmly and
you will get excellent results!

---
PRODUCT'S DETAILS
CONDITIONS: new product in sealed package.
OPERATION: two batteries of 1,5V. (not included).
MANUFACTURE: Italian product (Made in Italy), sold directly by the manufacturer.
CONTENT OF THE PACKAGE:
- Vibrating Belt-Massager VIBROMAGNETICA.
- Strap to fix the product during the massage.
- Multilingual instructions for use.