Description
RELAX FOOT
Vibrating Pillow for feet massage
(3V. batteries operated - 2 operation speeds)
CERTIFIED

RELAX FOOT is a valid aid to fight swelling to the legs and to massage the feet. Ideal for those who are forced to be standing for a lot of times a day.
The vibrating pillow can comfortably be used in every place, also in your car, since it works with two batteries from 1,5V. (not included); this allows to always have it available in every moment of the day.
Once batteries are inserted into the vibrating body and, put the same inside the pillow, it is necessary only to press the button on the desired speed and ... relax yourself!
RELAX FOOT will be always at your service, strong of its 3 indisputable merits:
ECONOMY
SECURITY
DISCRETION
A perfect help to assuage legs swelling,
conceived and built in Italy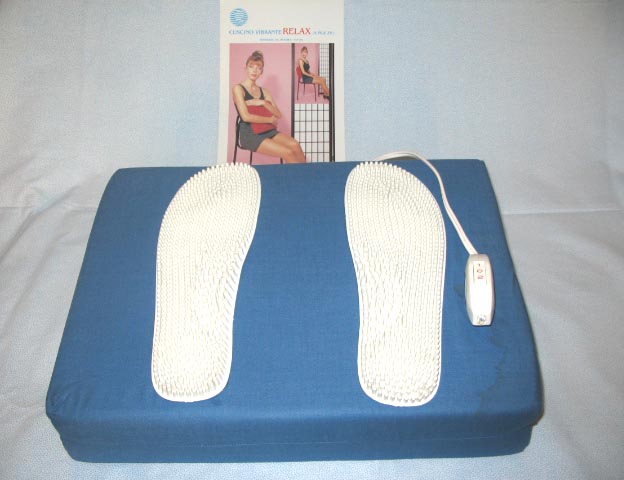 An essential tool for people who suffer of rheumatisms or develop fatiguing jobs!
It can also be used as normal vibrating pillow, using the opposite part of that with imprints.
---
PRODUCT'S DETAILS
CONDITIONS: new product in sealed package.
OPERATION: two batteries of 1,5V. (not included).
MANUFACTURE: Italian product (Made in Italy), sold directly by the manufacturer.
DIMENSIONS: about cms. 28,5 x 38,5 x 8.
CONTENT OF THE PACKAGE:
- Vibrating Pillow-Massager RELAX FOOT.
- Multilingual instructions for use.
ATTENTION
The color of the product could vary without notice,
according to availability at the order's moment.