Description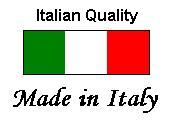 Line Beautility
PRATICO
Multiuse Little Tray-Table
PRATICO is an innovative little tray-table that offers various methods of employment: from breakfast in bed to snack in armchair watching TV.
The particularity of PRATICO is the possibility of using it as tray but also as table; you only have to extract the special supports to obtain a comfortable and spacious plan.
Thanks to the provided lodgings drawn to contain dishes, silver wares, glasses and more other, everything will be immediately in order.
Valid tool for elderly people or with
reduced motor ability, to always
have everything near them!
Dimensions of the product
approx. cm. 49 x 30
(table height approx. cm. 23)
_________________________________________
PRODUCT SPECIFICS
CONDITIONS
New and packaged article.
MANUFACTURE
Article of Italian production (Made in Italy),
sold directly by the manufacturer.
MATERIAL
Polypropylene with supports in polystyrene plastic.
CONTENT OF THE PACKAGE
- PRATICO (colour white).
- Instructions for use.
ATTENTION
The colour's tone of the product could be
slightly different than that of the pictures.
_________________________________________
ATTENTION
Copy and diffusion, also partially, of images and
contents of this page are not allowed.
Failure to observe the above statement will be pursued.
All names, logos and brands of third parties showed
in this page belong to the respective owners.