Description
DONNA
Invisible Adhesive Bra
(for aesthetical use)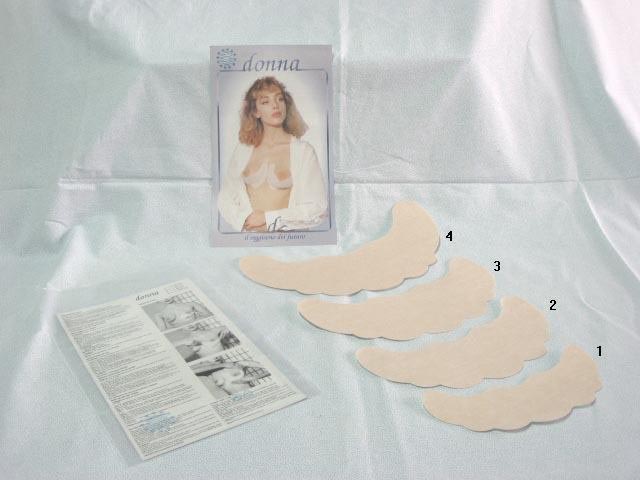 DONNA is the exclusive bra for every woman. Realized in special nontoxic adhesive tissue that, when applied, allow you greater dynamism and above all it is invisible under suits.
It can be worn with any garment since it is perfectly adaptable to all demands: it is realized in fact in nude color.
Very practical to use, light but resistant, DONNA has the same function of the normal bra but also the peculiarity of the adhesive application, without hooks and shoulder strap.
The bra of the future!

The sizes
Size 1 = about 75 cms. breast circumference
Size 2 = about 85 cms. breast circumference
Size 3 = about 95 cms. breast circumference
Size 4 = about 100 cms. breast circumference
---
PRODUCT'S DETAILS
CONDITIONS: new product in sealed package.
MANUFACTURE: Italian product (Made in Italy), sold directly by the manufacturer.
CONTENT OF THE PACKAGE:
- Set of 12 pcs. (6 pairs) of DONNA in Nude color and desired size.
- Multilingual instructions for use.
SALIENT INDICATIONS FOR USE
- The product is realized with nontoxic adhesive. It must be destined only and exclusively to aesthetical use.
- Wear only after having carefully clean and dried the skin with the purpose to allow the greatest adherence.
- This is a mono-use application that is not recommended in presence of illnesses of the skin or irritations.
Properties
Size:

1 (± 75 cms. breast circumference)

2 (± 85 cms. breast circumference)

3 (± 95 cms. breast circumference)

4 (± 100 cms. breast circumference)